L'Architecture d'Aujourd'hui
Andreas Kofler and contributes regularly to the bilingual French magazine L'Architecture d'Aujourd'hui (AA) and has been part of AA402's and 404's editorial committee. Our AA diary:
AA438 (9/2020): Parasites
A Tale of two Houses: The Movie Parasite
AA431 (6/2019): China's committed architects
Brown Sugar Factory, Xing Village, county of Songyang, Lishui prefecture, Zhejiang province, 2016, DnA Design and Architecture
AA430 (5/2019): Productive City
Helsinki Dreispitz appartements and archives, Basel, 2014, Herzog & de Meuron
AA427 (10/2018): Port architecture
Kenzo Tange's Tokyo Bay
AA Projects (5/2018): Kengo Kuma
AA421 (10/2017): Engineering Works
Japan-ness, Centre Pompidou-Metz
Øresund Bridge, interview with Georg Rotne
Zhong Sheng Da Dao and Jin Liu Lu bridges, Marc Mimram
Delta Works 2.0, RAAAF et Atelier de Lyon
AA420 (9/2017): Learning architecture
"Architecture labs": the avant-garde in Japan
AA419 (7/2017): Spain
Mallorcan Modules, two social housing projects, Ripoll Tizón, Mallorca
Made in Tenerife, Facultad de Bellas Artes, GPY Arquitectos, Santa Cruz de Tenerife
AA418 (5/2017): Vestiges
Palimpsest Castle: Witherford Watson Mann (WWM), Astley Castle
The Architect and the Archaeologist: David Chipperfield Architects + Julien Harrap, Neues Museum
AA417 (3/2017): Stone architecture
17 logements sociaux, Barrault & Pressacco
AA416 (12/2016): Mixed-uses
A tradition in mixed-use & Mixed-use as design method (OMA).
AA415 (10/2016): Museums
The Guggenheim business model.
AA414 (9/2016): Being an architect
Le collectif pour le participatif or Happy together.
AA413 (7/2016): Temporary architecture
Some weekend (or summer) reading: the brand new issue of L'Architecture d'Aujourd'hui (AA) focuses on temporary architecture and includes a review of Tokyo's Commune 246 and a retrospect on Linz's "Das Gelbe Haus".
AA410 (12/2015): Sports
The new issue of L'Architecture d'Aujourd'hui (AA) is dedicated to the quintessence of all New Year's resolutions: (more) sports. The magazine contains a comparison of the 1964 and 2020 Tokyo Summer Olympics in terms of urban planning.
AA409 (11/2015): Innovations
L'Architecture d'Aujourd'hui 409 contains texts about the Good Design Award winning Moku-Chin Kikaku and Assemble's Turner Prize nominated Granby Four Streets project.
AA408 (9/2015): Morocco
We sum up the 12 acts of demolition drawn up by the Berlage spring Masterclass 2015, led by AMO/OMA's Ippolito Pestellini Lapardelli, Janna Bystrykh and Stephan Petermann.
@revueAA on the #Berlage #Masterclass #12ActsOfDemolition by #OMA Our projects: http://t.co/Pzb23yTmGN @ArchTUDelft pic.twitter.com/IBPlOVoP4Q

— iason stathatos (@iason_stathatos) September 29, 2015
AA407 (6/2015): Transformations
While in Marcello Tavone's article OMA converts a distillery in the permanent Milan venue of the Fondazione Prada, Andreas Kofler writes about Assemble's project to metabolize a former Victorian bath to domicile London's Goldsmiths Art Gallery.
La @FondazionePrada à Milan, un projet de l'agence OMA publié dans AA 407 #architecture #rehabilitation pic.twitter.com/W4g2YrHihE

— AA (@revueAA) July 9, 2015
La galerie d'art Goldsmiths à Londres, un projet de l'agence Assemble dans AA 407 #rehabilitation #architecture pic.twitter.com/53Qa0UX8BW

— AA (@revueAA) July 9, 2015
AA406 (5/2015): Water and the City
Yet another issue of L'Architecture d'Aujourd'hui (AA) has us impatiently hiding in its imprint. The current number comes with Marcello Tavone's review of Secchi-Viganò's Park Spoor Noord in Antwerpen, Andreas Kofler's journey to Tokyo's Metropolitan Area Outer Underground Discharge Channel (accompanied by the adorable Annabelle Blin) and a retrospect (and soon-to-be-in-Paris (!) preview) of Tetsuo Kondo's Cloudcapes'.
AA405 (3/2015): Therapeutic architecture
Andreas Kofler writes about Sou Fujimoto's Children's Center for Psychiatric Rehabilitation and Kunihiko Matsuba's Nagasawa Dental Clinic.
Part 2 of 2 of the interview with Sou Fujimoto focuses on his numerous healthcare projects, and is also available as English PDF download.
AA404 (12/2014): Architecture models
Join us for green tea and an interview with the masterly Mr. Sou Fujimoto in a new co-edited issue of L'Architecture d'Aujourd'hui (AA) dedicated to architecture models.
Also available: cheese fondue with former H&dM's Alexandria Algard and a pindakaas sandwich with former OMA/AMO's Konrad Milton.
AA403 (11/2014): Suburban housing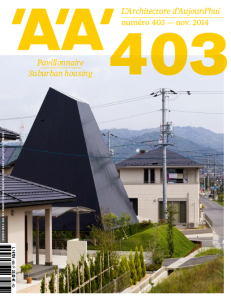 AA dedicates its November issue to suburban housing. Marcello Tavone and Andreas Kofler review 7, out of 17 projects, detailed in this number 403 of l'Architecture d'Aujourd'hui:
NMS house, Koksijde, Belgium, 2005 – Dierendonckblancke
PIB house, Grimbergen, Belgium, 2013 – Ura
dnA house, Asse, Belgium, 2013 – Blaf Architecten
Four housing units, Vitry-sur-Seine, France, 2014 – Atelier Urbain Anne Durand
Jardin d'hiver house, Lavaur, France, 2011 – Fmau
(←) Underground house, Saijo, Japan, 2007 – Suppose Design Office
Tama Loggia and Tama Machiya, Tokyo, Japan, 2013 – TamaHome & Atelier Bow-Wow
AA402 (9/2014): Scandinavia
L'Architecture d'Aujourd'hui (AA) no. 402 is available as of today. It features our essay investigating Japanese-Scandinavian symmetries and an article aiming to decode the Venice Biennale tote bags, photographically inventoried by the talented Radmila Tasic. Furthermore, contributions by the outstanding Theo Deutinger, the knowledgeable Marie-Madeleine Ozdoba, the resourceful Flavien Menu, the über-charming Alexandria Algard,…
L'Architecture d'Aujourd'hui (AA) no. 401 available June 24 in newsstands and bookshops, featuring Andreas Kofler's article on "architecture comme/as image".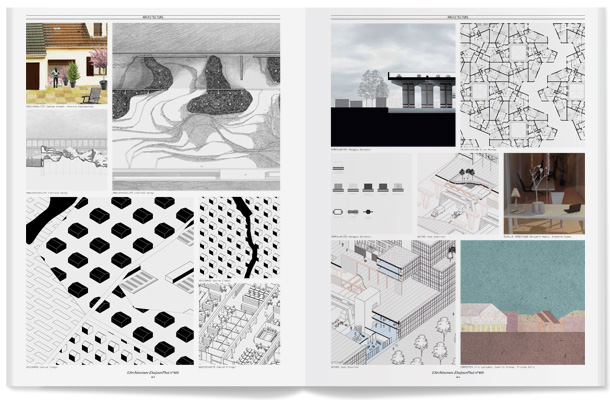 After the last decades have overdosed us with glossy 3D images, Aurélien Gillier's exhibition Futurs immédiats places the emphasis on graduation projects that make use of more austere methods: collages, axonometric representations and plans. A decision that brings about a return to the essence of projects, their concerns and the way we look at them.
Tags:interview, publications