Of Houses (w/ Marcello Tavone)
When in 1901 Peter Behrens completed his first and own house on Darmstadt's Mathildenhöhe, he decided to inscribe a "Hausspruch" by lyricist Richard Dehmel on its façade. "Stand steady, my house, amidst the roaring of the world" (Steh' fest mein Haus im Weltgebraus) is a sort of Godspeed wishing the house may withstand all kind of physical and metaphoric maelstroms the future might bring. A desire for perfection, but also a fatalistic acknowledgement that the unknown can't be fully anticipated – like a shipbuilder, the architect confidently puts his unmanned house at sea whilst anxiously hoping it won't collide with anything. Ultimately it would be Behrens' himself that would sail swiftly towards modernist waters, ideologically abandoning his Jugendstil-house which he sold before even having lived in it. While in theory the modes in which architecture can react to Weltgebraus can be summarized in adaptation or denial – and its consequences in relativization or monumentalization – the reading of this interrelation on specific cases is anything but binary. The gradient and array of situations, which is revealed by examining houses through this lens, was ultimately the criteria for our selection for Of Houses.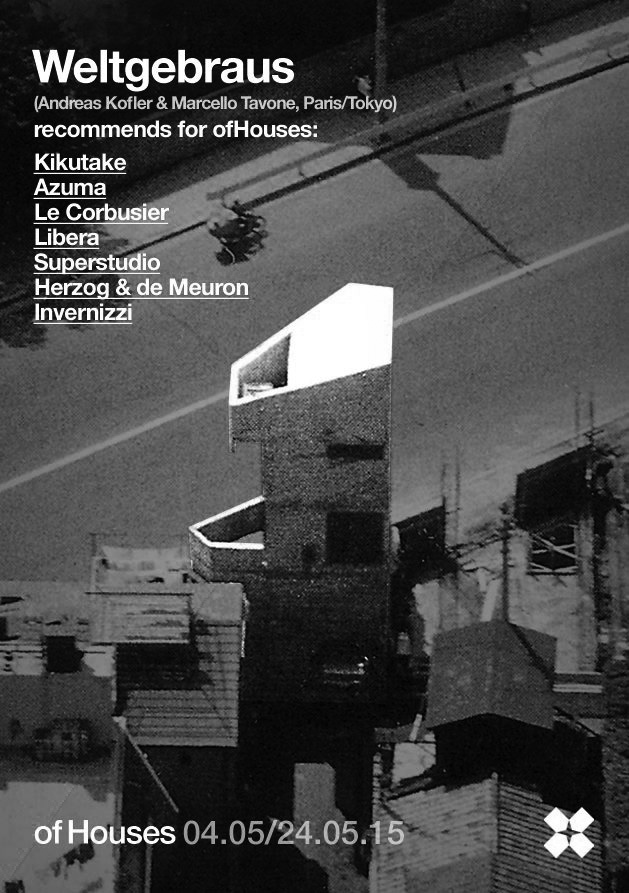 Weltgebraus has been guest curating Of Houses from May 4 to 24, 2015.
Tags:publications